How We Backed The Longest Priced
Winner in History at Happy Valley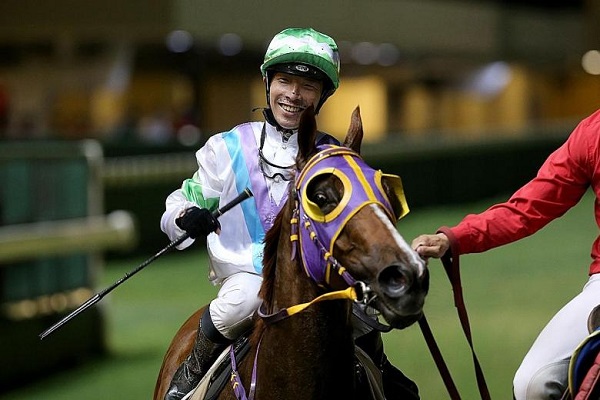 (Photo : Jockey Ben So on 283/1 winner Top Military. Courtesy of HKJC)
"Top Military is finishing on out wider – an absolute bolter – he's got there! Blinkers on first time,
he's come from the clouds at odds of 283/1 - and has rolled the odds on favourite!" (Hong Kong Race Caller)
 
It was a typical Wednesday meeting at Happy Valley racecourse on June 3rd. No one at the course would have suspected that history was about to be made that night.
In the fourth race on the card the impressive last start winner Sky Show stifled the betting at odds of just $1.57 for the win. At the other end of the scale, unwanted in the betting, was the former New Zealand horse Top Military at odds of nearly 300 to 1. In the past 50 years of racing at Happy Valley no horse had ever won at anywhere near those odds.
Whilst Sky Show was expected to win the race, you won't make a long term profit on the races by backing $1.57 shots. The secret of winning at the races is not how many winners you get, but rather what odds you get about your winners.
If you back 50 winners at odds of $1.57 - from 100 one dollar bets, you'll get a return $78.50 and thereby make a loss of $21.50 or - 21.5%. On the other hand, if you back just one winner at odds of 283/1 from 100 bets, you'll get a return of $284 and make a profit of +184%. Enuff said!
In the course of doing our form analysis for Top Military's race, we uncovered some fascinating facts. Firstly the 6yo had been off the scene for two years before returning to racing this preparation. After such a long lay off the gelding was taking time to regain full fitness – but now after a handful of runs he was at last 100% race fit. Secondly, Top Military was dropping back in distance from 1650 metres to a 1200 metre event. Being by the Oakleigh Plate winning speedster Swiss Ace, a horse that never won beyond 1350 metres, we surmised that the shorter trip would suit the horse. Thirdly, with the aid of apprentice Ben So's claim the horse was on the minimum – so he couldn't be in any better at the weights.
Fourthly, and possibly most importantly, Top Military was wearing blinkers for the first time in Hong Kong. It's a fact that some racing breeds have a tendency to show improvement when wearing blinkers for the first time. We noted that Top Military was by Swiss Ace and out of an Encosta De Lago mare – two breeds that often improve with the shades on. Our detective work also discovered that some years ago Top Military had previously won races in New Zealand when wearing blinkers.
After the event winning jockey Ben So said "I think the first time blinkers must have changed the horse – he was flying home – I'm very happy". After the race, as the figures showing the balance in our on line bookie account turned over like a jackpot had been won on a pokie machine - so were we.
Aussieraces.com June 2020