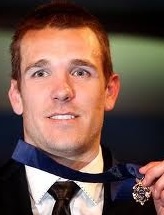 Photo : Collingwood's Dane Swan after his shock 2011 Brownlow Medal win at odds of 16/1.

How To Pick The 2020 Brownlow Medal Winner By Mark Hall
The Brownlow medal count is usually a glamorous affair. Wags (ok – 'significant others') show off their wares on the red carpet before the event whilst next to them their footy star dates often squirm uncomfortably in tight tuxedos and utter awkward banter to interviewers about their and their partner's outfits. Clearly the majority of AFL players are more comfortable in their footy kit than designer outfits.
This year in Covid 19 times the glamour will be missing but the count will still be televised live by Channel 7 on Sunday, October 18th, the week of the AFL Grand Final.
Usually a fun part of Brownlow night is trying to pick the winner. This year however, after his stellar year on the field, the Lion's Lachie Neale has seemingly taken all the air out of the occasion. Bookmakers have him as the hot favourite for the event at the odds of $1.25. In mathematical terms that means they believe he is an 80% chance to win the game's highest honour. We've done the sums, entered the figures into our marvelous, mathematical Brownlow winner calculating machine and have come up with exactly the same answer.
Whilst the general opinion is that Lachie Neale is home and hosed in this year's medal, we don't need to back Neale at the skinny odds in order to win. Bookmakers can often be party poopers, but this year they have come to the party by offering a whole variety of Brownlow betting markets that offer value and wagering opportunities. For example Sportsbet have a Brownlow medal market with Lachie Neale excluded and also markets for Top 3 Finish, Top 5 Finish and even Top 10 Finish.
Here's the latest Brownlow betting market -
| | | |
| --- | --- | --- |
| Player | Team | Market |
| Lachie Neale | Lions | $1.25 |
| Travis Boak | Power | $7.00 |
| Christian Petracca | Demons | $8.00 |
| Jack Steele | Saints | $12.00 |
| Patrick Dangerfield | Cats | $21.00 |
| Jack McCrae | Bulldogs | $21.00 |
| Dustin Martin | Tigers | $23.00 |
| Marcus Bontempelli | Bulldogs | $26.00 |
| Nat Fyfe | Dockers | $41.00 |
| Max Gawn | Demons | $51.00 |
| Patrick Cripps | Blues | $51.00 |
| Clayton Oliver | Demons | $67.00 |
| Nic Natanui | Eagles | $67.00 |
| Scott Pendlebury | Magpies | $67.00 |
| Oliver Wines | Power | $67.00 |
| Cameron Guthrie | Cats | $67.00 |
| Sam Menegola | Cats | $67.00 |
| Taylor Adams | Magpies | $67.00 |
| Tom Hawkins | Cats | $101.00 |
Now back to our marvelous, mathematical Brownlow medal winner calculating machine – here's how it works. We studied 28 different form variables to assess whether each of them were good predictors for picking the Brownlow winner. We found that some were very strong indicators. The strongest single pointer to a player performing well in Brownlow voting is how he ranks for Centre Clearances. Obviously if you're clearing the ball from right under the umpires' noses at centre bounces you're going to get noticed. The past five Brownlow winners all ranked in the top five players for Centre Clearances during their respective seasons. Considering that each AFL team had about 40 players on their list and there are 18 sides, there were approximately 720 players going around this year - so to be ranked in the top five is pretty impressive.

The second key indicator is Contested Possessions. All of the past seven Brownlow winners ranked highly on this factor. On the other hand, as shown on the table below, umpires are much less impressed by players who gather plenty of Uncontested Possessions. Footballers who do chalk up good numbers in this area rarely feature in Brownlow voting. Similarly, umpires also don't tend to award many votes to top goal scorers. In the past seven years none of the Brownlow winners have featured on the goal kicking tables. This year's Coleman Medal winner Geelong's Tom Hawkins would therefore appear to have history against him.
In addition to Centre Clearances and Contested Possessions - there are other key variables that point to a player performing well in the Brownlow. They are his Supercoach Score and his rankings for general Clearances. As well as these factors, it's also worth factoring in a player's team's position at the end of the minor round – simply because Brownlow medal winners most often come from winning teams in the top four. A player's finishing position in the previous year's Brownlow voting should also be considered as it shows whether he's the type of player who is proven to attract umpires' votes.

The table below shows recent Brownlow Medal winners and how they ranked on the key variables -
Table 1 - Recent Brownlow Medal Winners' Rankings on Key Form Variables
Recent Brownlow

Medal Winners -

Key Variables -

2013 Gary

Ablett

2014

Mathew

Priddis

2015

Nathan Fyfe

2016

Patrick Dangerfield

2017

Dustin

Martin

2018 Tom Mitchell

2019 Nathan Fyfe

Rank for




Centre

Clearances

Not

Avail.

Not

Avail.

3rd

1st

2nd

5th

3rd

Rank for

Contested

Possessions

2nd

5th

1st

4th

7th

2nd

1st

Supercoach Score

1st

13th

2nd

1st

2nd

2nd

4th

Rank for General Clearances

10th

5th

1st

6th

10th

1st

3rd

Team Position at
End of Minor Round

2nd

9th

1st

2nd

3rd

4th

13th

Brownlow Medal Position Previous Year

6th

25th

2nd

6th

3rd

3rd

13th

Rank for Uncontested Possessions

27th

83rd

191st

45th

96th

10th

114th

Rank for

Goals

65th

245th

106th

89th

41st

197th

122nd
Now to this year's Brownlow. The table below shows our top ranked players for this year's medal based on how they ranked on the key variables outlined above.
Table 2 – Players' Rankings on Key Form Variables for 2020 Year
Our Top Ranked Players -

Key Variables -

1st Lachie

Neale

2nd Patrick

Cripps

3rd
Clayton

Oliver

4th

Nic Natanui

5th Marcus Bontem-

pelli

6th
Christian Petracca

7th

Taylor

Adams

8th

Jack Steele

1. Rank for Centre

Clearances

=7th

1st

=7th

4th

2nd

51st

3rd

20th

2. Rank for

Contested

Possessions

4th

7th

2nd

35th

21st

3rd

14th

11th

3. Supercoach

Score

2nd

68th

4th

21st

10th

9th

25th

3rd

4. Rank for

General

Clearances

8th

3rd

1st

4th

9th

46th

6th

12th

5. Team Position

at End of Minor

Round

2nd

11th

9th

5th

7th

9th

8th

6th

6. Brownlow Medal Position Previous Year

=3rd

=3rd

31st

No votes in
3 games

8th

No votes from 22 games

No votes from 10 games

1 vote from 20 games


Market Odds
 

$1.25

$51

$67

$67

$26

$7

$67

$13

Market Odds

Without Neale

N/A

$51


$34

$34

$13

$3.50

$34

$6

Market for
Top 3 Finish

$1.03

$29

$23

$15

$15

$2.00

$11

$3.75

Market For

Top 5 Finish

$1.01

$17

$11

$6.50

$9

$1.33

$5

$1.40

Market For

Top 10 Finish

$1.001

$8

$4

$1.90

$2.75

$1.15

$1.75

$1.05
* Odds correct at time of being entered – subject to change.
Betting Strategy
Our recommended betting plays focus on two key players – Patrick Cripps and Marcus Bontempelli.
If you had say $50 to invest on the Brownlow, we would recommend staking as shown below.

We've steered clear of some of the other players that rank highly on the table above because they have poor records in attracting umpires' votes in Brownlow Medal counts (e.g. Clayton Oliver's best finish to date was 22nd place in 2018 whilst Nic Natanui's best finish was 34th place way back in 2012).
Patrick Cripps
He is a proven vote getter having finished 3rd in the Brownlow in 2019 and 4th in 2018. Considering in 2020 he was No.1 ranked for Centre Clearances - the No1 indicator – he's worth an investment, especially at the value odds on offer.
Top 10 Finish – Invest $25 @ $8 = $200
Marcus Bontempelli
He is also a proven vote getter, having finished in 8th place in the Brownlow in 2019, 2017 and 2016. The Bulldog dynamo had his best vote count last year (22) and has gone to even greater heights in 2020 ranking 2nd for Centre Clearances.
Top 5 Finish – Invest $25 @ $9 = $225

With a Top 5 Finish for Bontempelli and a Top 10 Finish for Cripps we'll collect on both bets.


 
Aussieraces.com September 2020