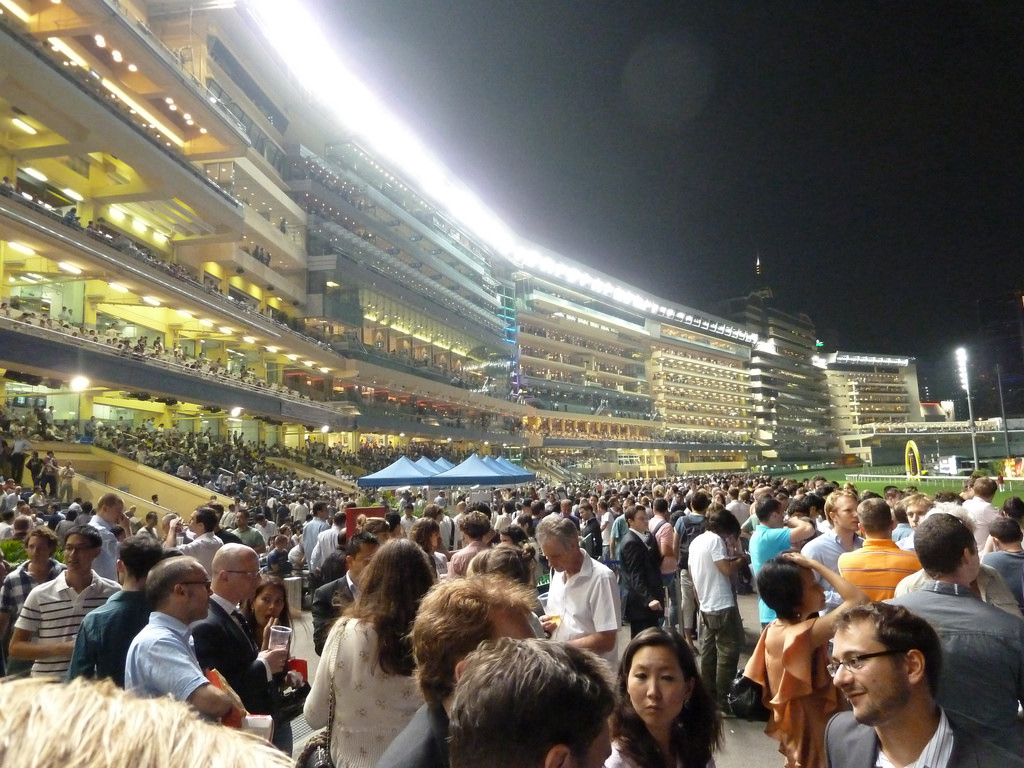 ​​​​​Hong Kong Horse Racing - Punters' Paradise By Mark Hall


What is it that draws people to the steamy Asian isle of Hong Kong? It possesses a rich history, it's a busy port and financial hub, a thriving metropolis, a major shopping destination, is famed for its bespoke tailors and night markets and is home to a Disneyland resort. Of course it's all those things. However for the world's biggest punters there is something else that attracts them - the lucrative world of horse racing.
The Hong Kong Jockey Club was founded in 1884. Nearly one hundred years later a group of maths wizards descended on the locality and began experimenting with a new way to win at horse racing - using mathematical computer models rather than only form study. After a lot of trial and error they eventually got their formulas right - and not only did they start winning - but they succeeded in the ultimate fantasy, because of their 'edge' - they couldn't lose.
Hong Kong
horse racing had become a licence to print money for these punters and it still is today.

Google names like Bill Benter, Alan Woods, Zeljko Ranogajec and David Walsh and you'll read fantastic tales of unimagined wealth - like the time Bill Benter, a noted philanthropist, decided not to collect the payout on a two million dollar winning betting ticket. On hearing that the Hong Kong betting authority the HKJC are a not for profit organisation who donate much of their money to charity, he thought the two million would go to a good cause. Alan Woods, who lived a lavish, hedonistic lifestyle that would have given Hugh Hefner a run for his money died in 2008 with an estate worth $939 million - all made on the punt. Zeljko Ranogajec has become mega rich through horse racing and now bets a billion dollars a year. Yes, that's correct, not a 'million' but a 'billion'. David Walsh once aspired to be a professional table tennis player but became a successful professional punter instead. In his autobiography 'A Bone Of Fact' Walsh describes his winning computer system as 'a money mine'. He has spent tens of millions of dollars of his proceeds from the punt on creating what he calls 'a subversive, adult
Disneyland
', the
Museum
of
Old
and New Art (MONA) in
Hobart
.
The Hong Kong
Jockey Club
It's not only the best gamblers in the world who gravitate towards
Hong Kong
, but also the best trainers and jockeys. There are many reasons why
Hong Kong
has become a horse racing paradise and at the epicentre of it all is the all powerful Hong Kong Jockey Club. Unusually at a time when many major corporations are renowned for the massive pay packets of their fat cat executives and for corporate greed, the Hong Kong Jockey Club is a not for profit organisation that donates large sums to charities. They claim to be one of the top ten charity donors in the world. The club, the sole betting operator in
Hong Kong
, turned over HK$202.7 billion in the 2015/16 financial year. The HKJC not only operates all the betting, but everything else to do with horse racing - they run the two racecourses, Happy Valley and Sha Tin, employ all the vets and stable hands and have around 25,000 employees in total. Most of the racehorses are stabled at the HKJC's modern multi storey stables at Sha Tin.

The HKJC have a reputation for uncompromising integrity. The words 'horse racing' can conjure up images of shady doings and characters for some people. Like anywhere where big money is involved, not everything is squeaky clean all the time in
Hong Kong
racing, but it is probably the cleanest racing jurisdiction on the planet. The high level of integrity demanded by the HKJC gives industry participants including punters faith in the product. You don't just buy a horse and race it in
Hong Kong
- you must apply to be an owner. You don't just train or ride in
Hong Kong
but must be invited by the HKJC to train or ride. And the HKJC has high standards across the board. For example, if a trainer doesn't achieve at least 16 wins in a racing season his licence can be revoked. One thing that punters can be pretty certain of in Hong Kong is that trainers and jockeys want to win - and they need to do it legally because the HKJC have one of the world's leading drug testing facilities at Sha Tin. Every race run in Hong Kong has big prize money on offer and conections all want a piece of the 'pie'. Take a look at the video finish of just about any race and you will see all the jockeys going absolutely flat out to win.

The HKJC Web Site Provides Everything You Need To Win
Fields, form, trainer and jockey statistics, track and barrier information, speed maps, sectional times, stewards reports, results, photo finishes and video replays - you name it - its all provided and its all free on the HKJC web site. The video replays take you into Tomorrowland as not only do they have track work replays, race replays, stewards patrol replays, leading horse replays (the race from the leading division's perspective), pass through replays (replays of how horses run after they pass the finishing line) but also aerial virtual race replays. Another great feature for the serious punter are the race reviews including comments for every runner and photos from the 800M, 400M, 200M and Finish of every race - so you don't even have to view the race replays yourself to see how and why each horse ran as they did - the race reviews and runner comments tell you just about everything you need to know.

Huge Betting Pools
Hong Kong has a population of seven and a half million people and many of them love a bet. This together with the fact the HKJC pools are co-mingled with the pools of the Victorian TAB makes for big betting pools - which in turn attracts the 'big 'fish' i.e. the world's mega punters. The huge pools mean that punters can get on for a decent amount without effecting the final TAB dividend. Most corporate bookmakers also offer fixed odds on Hong Kong races so it's easy enough to get on with them as well. Another interesting characteristic of Hong Kong racing is that with Chinese nationals there are fewer 'form punters' and a higher proportion of punters who base their selections around luck, numerology, fate and fortune. This may be considered 'uneducated' money in the eyes of some serious punters - but of course sometimes they win.

A Wide Weight Scale Means That Weights Matter
95% of the races run in Hong Kong are handicaps. A typical weight range in a race is 51 to 60 kgs and with some apprentices claiming up to 4 kilograms that can increase further still. For the astute form analyst it's therefore possible to unearth runners who clearly have the weights in their favour. Conversely, in Australia the weight range in races tends to be much skinnier, often between 54 and 58 kgs making weight a less important factor.

Only Two Race Meeting's Per Week Makes It Easier to Follow The Form
In Hong Hong there are usually two race meetings per week - a total of between 16 and 20 races. Meetings are held on Wednesday nights (HappyValley) and on Sunday afternoons (Sha Tin) Australian time. In Australia there is seven day a week wall to wall racing - up to 50 race meetings a week which makes it mighty difficult to keep tabs on all the form.

Limited Horse Population
Hong Kong has a horse population of around 1200 compared to Australia where there are over 30,000 registered racehorses. The small horse population means that it's easier to follow each horse's form. Outside stables can't make raids on Hong Kong races with 'smokeys'. The only outside horses that can race in Hong Kong are those that are invited for feature races.

Only The Best Trainers and Jockeys in the World are Invited To Hong Kong
Trainers and jockeys have to be standout performers in their home countries before they can apply to be licensed in Hong Kong. This again makes for a high standard of racing. Also, there's only a relatively small number of trainers and jockeys in Hong Kong, just over twenty of each, meaning it's easier to become familiar with their respective training methods and riding styles. The leading trainers in Hong Kong for the 2016/17 season were John Size (95 wins), John Moore (67) and Caspar Fownes (61). The top jockeys for the 2016/17 season were the gun Brazilian hoop Joao Moreira (with a 24% strike rate), Australian Zac Purton (18%) and popular local Mathew Poon (18%) who is known as the 'Poon Train'.
A Class System As Easy As Pie to Understand
With basically just five classes, Classes 1, 2, 3, 4 & 5 the class system in Hong Kong is as easy to follow as 1, 2, 3 …4 & 5. In
Australia
the state racing jurisdictions all have their own class systems making the overall class structures difficult to follow (At Aussieraces.com we've simplified the
Australian Horse Racing Classes
for you - but it's still a complex beast).
Just Two Racetracks
There are only two racecourses in
Hong Kong
- three if you consider that Shatin races on both turf and an all weather surface. This means it doesn't take long to get a handle on the characteristics of each course. By comparison, in
Australia
there are around 360 registered racecourses.

Predictable Track Conditions
In Hong Kong you'll rarely strike badly rain effected track surfaces. It helps that horse racing takes a well earned break for the last three weeks of July and all of August each year as these are the rainy months. Average rainfall for the dry season months of November to February is between just 20 - 30 mls. In the rainy season of July and August there is about ten times as much average monthly rainfall.

Fewer Race Day Scratchings
At Happy Valley and Sha Tin there tend to be few if any scratchings on race days so you can study the form early and not expect to see races dramatically change shape due to scratchings on race mornings. For Australian race meetings 10 - 20 scratchings or more on race mornings is the norm. Australian racing authorities could learn a lot from the way that the HKJC does things in Hong Kong.

Field Sizes Are Relatively Small - A Plus For the Punt
At Happy Valley race fields are limited to just 12 runners whilst at Sha Tin its 14. This has a lot of advantages for the serious punter. Firstly, speed maps are easier to construct than they would be for say a 20 horse race down the Flemington straight. Secondly, as Aussieraces.com research has shown, corporate bookmakers tend to offer better value odds in smaller fields than they do for larger ones, so without the bumper field sizes that we sometimes experience in Australia, bookmakers can't get up to their dastardly habit of offering poor value odds in big fields. Thirdly, as another Aussieraces.com research study showed, racehorses are less likely to suffer interference in smaller fields than in larger ones, which means that your racehorse is less liable to be put out of a race through being held up or hampered etc and therefore you are less liable to do your dough for this reason.

Racehorses Are In It To Win
There is no breeding industry in Hong Kong so breeding considerations do not enter into it. Horses race purely for the prize money. In Australia the timing of horses' preparations and the races they run in can often influenced by breeding considerations. There is basically no 2yo racing in Hong Kong. Horses tend to be between 3 and 8 years old. Also, because owners become owners to race their horses rather than to breed from them, there are not a lot of fillies and mares. 90% of the horses racing in Hong Kong are geldings - and geldings can be less flighty and more reliable conveyances than entires or fillies and mares - another plus for the punter.
Availability of Live Racing Coverage, Meeting Previews and Mounting Yard Comments
Racing.com broadcast all Hong Kong race meetings live so in most places in Australia the coverage is available and you can see the action with your own eyes. Meetings are generally held on Wednesday nights (Happy Valley) and Sunday afternoons (Sha Tin). Racing.com also broadcasts meeting previews as well as mounting yard comments from Australian Jenny Chapman, so you can always be in touch with the latest happenings from the track.
The 2019 -20 Racing Season
The new racing season has just commenced (September 2019) so now's the perfect time to check out the Hong Kong racing action.




Aussieraces.com