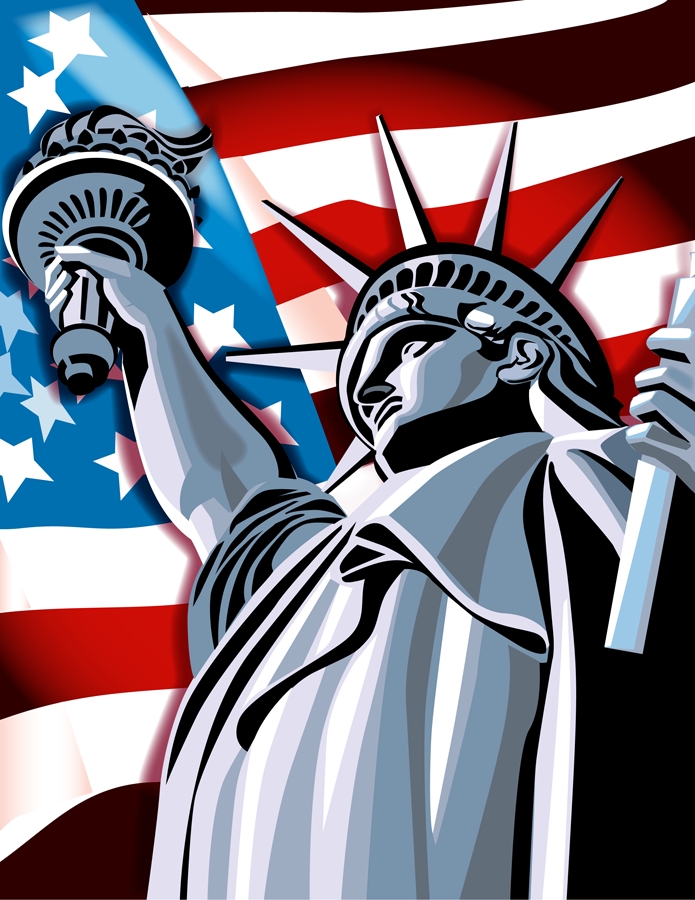 A Day at the Races In
New York

During our recent sojourn to the USA we experienced a day's racing at the Belmont Park racetrack on Long Island. The course which opened in May 1905 is the largest dirt thoroughbred racetrack in the world. It has two racing seasons, May to early July and September to October during which racing is typically conducted on both Saturdays and Sundays.

This is the very spot where one of the most phenomenal performances in the history of sport took place - Secretariat's Belmont Stakes win in 1973. The chestnut won the race by a margin of 31 lengths and recorded world record time in doing so – a record that still stands today over 40 years later. Watching the horse's power packed front running display that day will make the hairs on the back of your neck stand up. You can view it here - https://www.youtube.com/watch?v=V18ui3Rtjz4

Our day at the races began when we started out from our accommodation in the East Village in Manhattan. We took the subway from there to the end of the line at the Jamaica St station in Queens. We then caught a bus to the Belmont Park track. It was a typical suburban commuter bus and every passenger on it but for us was African American. I only mention this because none of them got off the bus at the Belmont track and inside the course there were very few African Americans - leaving me to ponder that horse racing in general may not feature strongly in their culture - as it does for many Caucasians and Hispanics who made up most of the race day crowd.

Here's a pictorial record of our day at the Belmont Park racetrack -


A tribute to a grand vision - just outside the Belmont Park track, adjacent to the car park and bus station, covered escalators flow up to a futuristic overhead walkway that leads directly to the racetrack's grandstand. However, for most of the racing season racetrack attendances are usually so low that it doesn't warrant that the grand edifice be used. Instead, race goers walk along a cyclone fence until they come to old fashioned iron turnstiles which squeak and moan upon entry for lack of a drop of oil.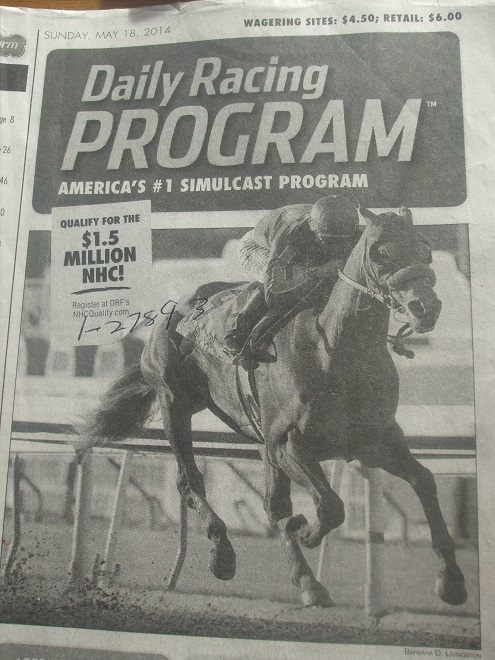 Once inside Belmont Park I picked up a copy of the Daily Racing Form. I picked it up from a vacant bench saving me the $6.00 purchase price. Later that day I was advised that it is an American racetrack tradition that if a customer leaves his form guide on a seat other customers should acknowledge that the guide and the seat are being used by a punter who is away for a moment - having a bet or a bite to eat etc. Oops! To that American punter – sorry! The Daily Racing Form contains a couple of hundred pages of fine print detailing the past performances of the horses at the meeting and for a first time user it represented a challenge to comprehend.






 

A tribute to Hall of Fame trainer 'Sunny Jim Fitzsimmons' at the Belmont Park track. Fitzsimmons trained successfully for 70 years from 1894 to 1963 and won the Triple Crown twice - with Gallant Fox in 1930 and Omaha in 1935.

The field thundering down the home stretch. The majority of races are run on the outer dirt circuit but during a meeting some races such as this one may be run on the inner grass track.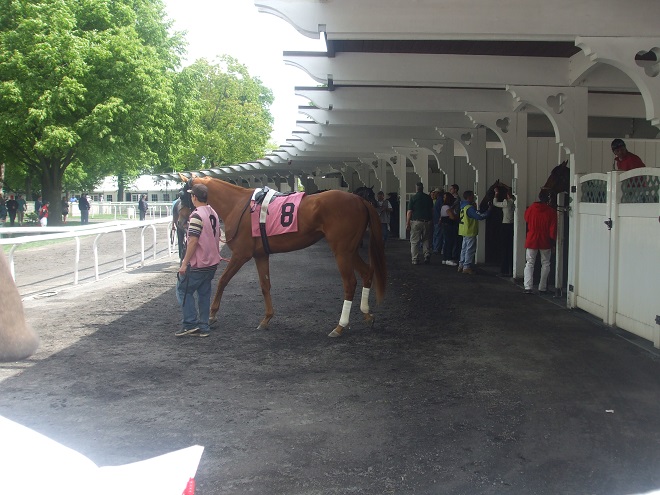 Horses with their attendant trainers, grooms and jockeys in the stalls area at Belmont Park.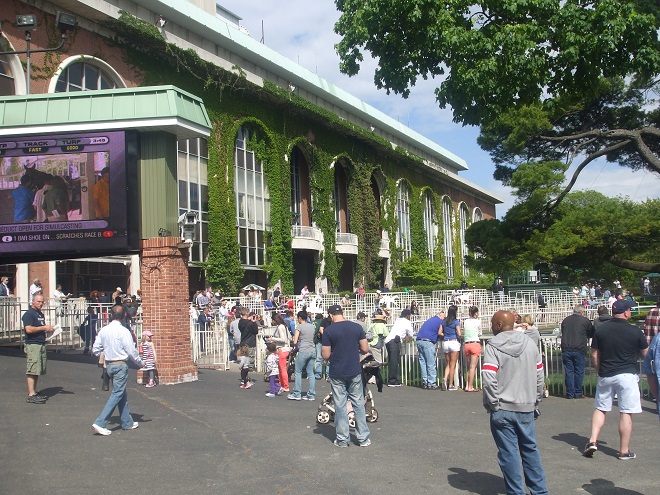 The Belmont Park grandstand features picturesque, ivy clad arched windows – and a modern touch - an electronic tote board.






A fast food outlet at the track. Americans love their 'heros'. A 'hero' roll is a long, crusty roll with filling – in this case sweet Italian sausage. Finding nutritious food at the track was a more difficult task than finding a winner.


Horses milling on the track – not racehorses but lead ponies waiting for the contenders to enter the racing arena and to be led to the starting gates. Trainers can hire a lead pony before a race.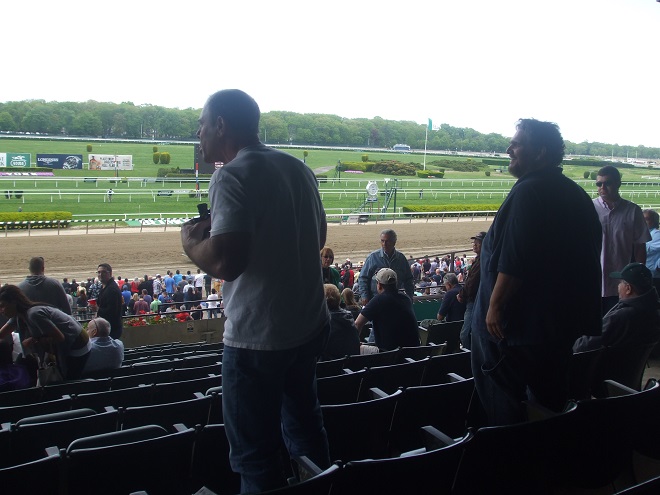 A rowdy punter with his mate. He excitedly showed us and everyone else around him his 'winning ticket worth thousands of dollars' after the horse he'd backed looked to have got up in a close finish. Unfortunately he'd celebrated too early as the photo didn't go his way. His excitement quickly dissipated into a morose silence - a familiar scene at any racecourse.






The tote betting windows under the grandstand. In a sign of the times the operator at the '$50 minimum bet' window was hardly troubled by a customer all afternoon.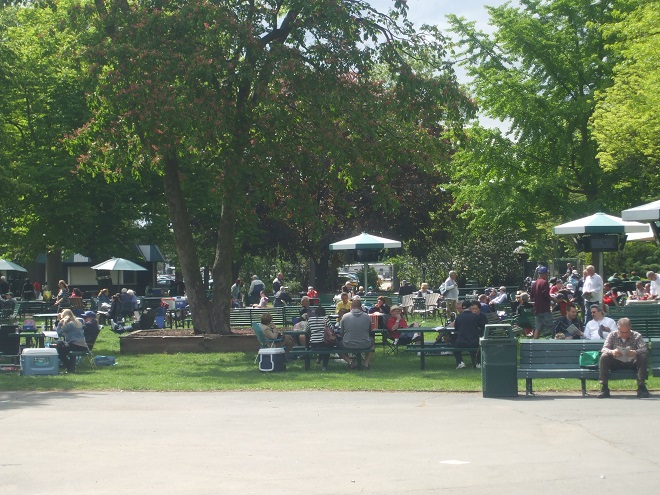 A relaxed atmosphere prevails behind the grandstand where market umbrellas and tall trees shade racegoers from the warm spring sun.







In the United States the majority of jockeys are Hispanics. In the US 'Hispanic' or 'Latino' refers to a person of South American, Central American or other culture of Spanish origin. Hispanics often have smaller statures and therefore can be suited to being jockeys. They also come from countries that have strong equestrian and horse racing cultures.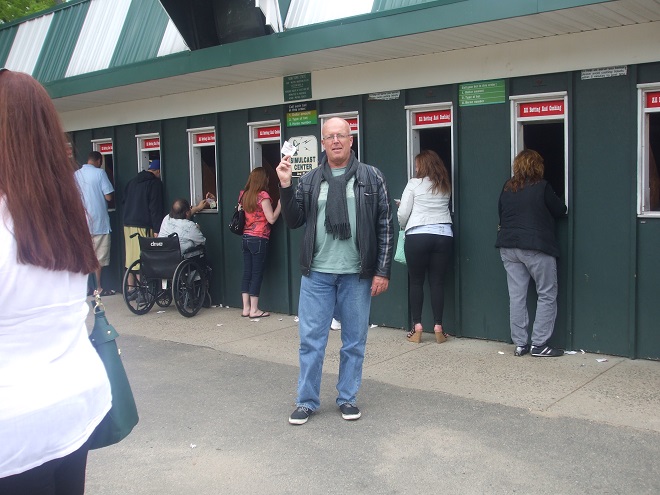 The author with a winning ticket – on the last race of the day. With the absence of bookmakers in the United States, the only option for a bet at the racetrack was the totalizator.



(Footnote: During the period I was in the United States a wonder horse called California Chrome lit up the American racing world like no other galloper had in decades. Read the California Chrome story here.)


Aussieraces.com February 2015